By Alice Doyel
Guest blogger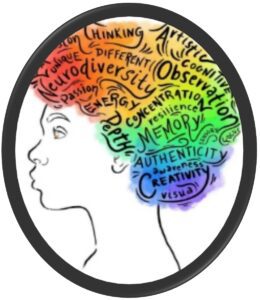 "To be yourself in a world that is constantly trying to make you something else is the greatest accomplishment."
– Ralph Waldo Emerson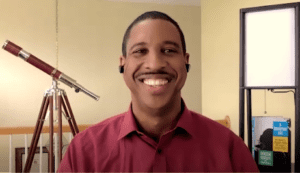 Dr. Hakeem Olusey is an internationally recognized astrophysicist. He has three degrees in physics and one in mathematics. Hakeem has a long and distinguished career in academia and scientific research, including having been Space Education Lead at NASA and an innovator at a major Silicon Valley company. He has eleven patents on his inventions. Hakeem is Visiting Robinson Professor at George Mason University, a designation for recognizing outstanding faculty. He is President-Elect of the Society of Black Physicists.
Hakeem is a strong and active advocate for science education. He fervently teaches and mentors young people in order that their paths forward in life and in education are smoother than he experienced.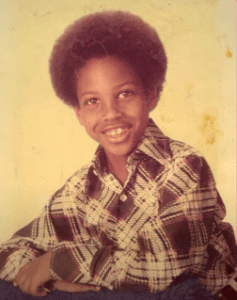 Hakeem's life story had countless twists and turns, ups and downs. Here I am focusing on his early life. I can only touch on
some of the points of interest

.
Please listen to the Startalk Interview, and then read Hakeem's well-written and enjoyable book to see the full extent of his complex life's journey.
Links:
Startalk: Neil deGrasse Tyson Interview (48 min)
The Book: A Quantum Life: My Unlikely Journey from the Street to the Stars (Kindle 345 pgs.)
Hakeem's life shows us the challenges our society sets up as hurdles for so many BIPOC students. These challenges go far beyond the school environment. On the positive side, we see what enabled Hakeem to eventually succeed. His life's odyssey teaches us what social changes must be made and how we can create an environment for many young people to succeed.
When Hakeem was 4 years old, his parents divorced. Hakeem describes his mother as "a mover." She constantly moved her family, leaving New Orleans, moving to Los Angeles, then to Houston, to California again, and back to New Orleans, always living in tough neighborhoods. In Los Angeles, Hakeem's older cousins were Crips, who became bank robbers and murderers, spending long stretches in prison.
The family would move multiple times within each city, from one relative or friend to another. His mother would change her jobs and change the men in her life in the same manner.
Hakeem's mother's moods were mercurial, her punishments were corporal, and most of Hakeem's mothering was left to his older sister who cared deeply for him. With all of this happening, Hakeem was a quiet kid trying to stay out of trouble. He was not getting much education in school. In contrast, at home young Hakeem found logic problems easy and reading well over his age level a pleasure.
At age nine, Hakeem's mother turned his care over to his father, who lived in central Mississippi. Living in the country, Hakeem wrote, "is where I learned my work-hard habits that would power my journey to a galaxy far, far away from Aunt Middy's farm."
On the dark side, Hakeem became part of his father's business of smuggling and selling liquor and drugs illegally. Also, it was here that Hakeem developed a painful skin condition. With no medical insurance, nothing could be done about it. It lasted him well into his adult life.
The family moved back to New Orleans. Hakeem lived in the city during the school year, and then in the country in the summers, including participating in the family smuggling business. During his years growing up this way, Hakeem learned to teach himself. Hakeem found a copy of Roots that led him on a remarkable road of adult-level reading and self-education. When Hakeem had access to an encyclopedia, he started at the beginning, letter A. When he got to E, Hakeem learned about Einstein and his Theory of Relativity. Einstein's work was the most exciting of all to him. Hakeem also learned how to do computer programming in Basic. However, his school education was lean at best in an all-Black school that was underfunded.
At one point, Hakeem was in a school program for mentally gifted students. But that ended when his mother sent Hakeem back to Los Angeles. Here the LA gangs encircled his existence. When Hakeem returned to New Orleans at age 12, he was tough and "bad" as a means for survival.
After a time, Hakeem was back in the country again. He was so involved in church and in understanding the Bible that he taught adult bible classes at age 13. During these years the "good nerd side" and the "druggie bad side" fought one another. A school principal mentored him, and the good side got better. Even better, professors came to Hakeem's high school and told them about a statewide science fair. This was news to these students. Hakeem combined what he knew about relativity together with his Basic programming skills and won first place in the state!
"Somewhere I Belong" – Written and Sung by Linkin Park https://youtu.be/zsCD5XCu6CM
(3 min)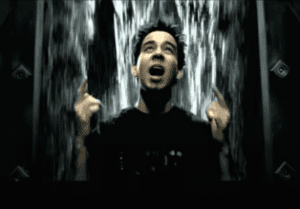 I wanna heal, I wanna feel what I thought was never real
I wanna let go of the pain I've felt so long
(Erase all the pain 'til it's gone)
I wanna heal, I wanna feel like I'm close to something real
I wanna find something I've wanted all along
Somewhere I belong
       (Full Lyrics at the bottom)
At the direction of the high school principal, Hakeem joined the Navy, where he would be able to participate in a nuclear engineering training program. The Navy BOOST program taught Hakeem algebra and other subjects, helping make up for his "crappy" education in school. He was at the top of his class, heading for the nuclear engineering program. Then Hakeem had a flare-up of his skin condition. He was discharged from the Navy because of this skin condition. It was another 10 years before his skin condition was cured.
Hakeem was without direction following his Navy discharge. Then friends told Hakeem about Tougaloo, a Historically Black College/University, known as the "cerebral" HBCU. This was a complex experience for Hakeem – a small college with no extra-curricular or sports activities to help keep his mind and actions in check. His dark side with drug use and the behaviors that went with it commenced. The administration recommended Hakeem drop out and take time to mature.
Hakeem sold and used drugs, lived in a cheap apartment, and had no money. He got a job as a janitor at a Ramada. He didn't have enough money for food, so he ate food from returning room service trays. When a bellhop opening came about, Hakeem applied for the job. He was told that he wasn't bellhop material. This young man with a 162 IQ was not seen as capable of being a motel bellhop.
Hakeem knew that he had to return to college and do it right this time. He fought his challenges and forged ahead, attending and completing college, then multiple graduate programs at Stanford.
When you listen to the interview and read Hakeem's book, you will see the challenges and racism Hakeem faced during graduate school. You will learn about Arthur Walker Jr., Stanford Professor, Solar Physicist, his African-American mentor who taught him and fought for him through it all.
"A Wonderful World" Posted on Nov 17, 2020 – Over 34 Million Views in Less Than a Year!
https://youtu.be/VqhCQZaH4Vs (2 min, 29 sec)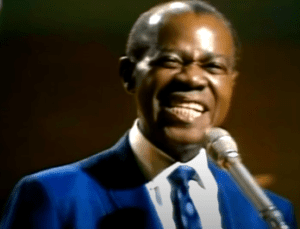 Sung by Louis Armstrong – Written in 1967 by Bob Thiele and George David Weiss
"A Wonderful World" was intended as a reassuring antidote to the problems facing 1967 America: Vietnam, racial strife, and turmoil everywhere. The song could bring hope to the millions of victims suffering the effects of the war, to our sorrow of military and civilian casualties, and to the bi-racial children sent away from their Vietnamese mothers to live with foreign parents.
Next Blog Post: When Reality Contradicts the Fictional Novel We Long Believed
Lyrics for "A Wonderful World"
I see trees of green, red roses too
I see them bloom for me and you
And I think to myself
What a wonderful world
I see skies of blue and clouds of white
The bright blessed days, the dark sacred nights
And I think to myself
What a wonderful world
The colors of the rainbow
So pretty in the sky
Are also on the faces
Of people going by
I see friends shaking hands, saying, "How do you do?"
They're really saying, "I love you"
I hear babies cry, I watch them grow
They'll learn much more
Than I'll ever know
And I think to myself
What a wonderful world
Yes, I think to myself
What a wonderful world
Lyrics for "Somewhere I Belong"

When this began
I had nothing to say
And I get lost in the nothingness inside of me
(I was confused)
And I let it all out to find
That I'm not the only person with these things in mind
But all that they can see the words revealed
Is the only real thing that I've got left to feel
(Nothing to lose)
Just stuck, hollow and alone
And the fault is my own, and the fault is my own
I wanna heal, I wanna feel what I thought was never real
I wanna let go of the pain I've felt so long
(Erase all the pain 'til it's gone)
I wanna heal, I wanna feel like I'm close to something real
I wanna find something I've wanted all along
Somewhere I belong
And I've got nothing to say
I can't believe I didn't fall right down on my face
(I was confused)
Looking everywhere only to find
That it's not the way I had imagined it all in my mind
What do I have but negativity
'Cause I can't justify the way, everyone is looking at me
(Nothing to lose)
Nothing to gain, hollow and alone
And the fault is my own, and the fault is my own
I wanna heal, I wanna feel what I thought was never real
I wanna let go of the pain I've felt so long
(Erase all the pain 'til it's gone)
I wanna heal, I wanna feel like I'm close to something real
I wanna find something I've wanted all along
Somewhere I belong
I will never know myself until I do this on my own
And I will never feel anything else, until my wounds are healed
I will never be anything 'til I break away from me
I will break away, I'll find myself today
I wanna heal, I wanna feel what I thought was never real
I wanna let go of the pain I've felt so long
(Erase all the pain 'til it's gone)
I wanna heal, I wanna feel like I'm close to something real
I wanna find something I've wanted all along
Somewhere I belong
(I wanna heal, I wanna feel like I'm)
Somewhere I belong
(I wanna heal, I wanna feel like I'm)
Somewhere I belong
Somewhere I belong