Responding to COVID-19: Resources for Our Community
Distance Learning – Tools and Resources for Families Supporting Students with Disabilities
Helping Your Child During the Pandemic – An Infographic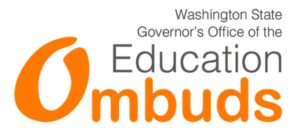 The Office of the Education Ombuds created a Back to School Planning for Remote Learning checklist. This list is for families and school teams to create plans together. Most families won't have all these things set up at home already, but schools should have some of these things ready to share and ideas for other community resources.
Social stories from the Autism Society, from Questions to Ask Educators and How to Wear My Mask, to Social Distancing, and Keeping Friends Safe, this collection uses plain talk and visual cues to review safety changes youth are facing.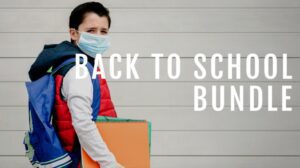 The "Back to School" bundle provides three individual social stories on the back to school scenarios in the wake of COVID-19: virtual learning, in-person education, and a hybrid model of the two. Each social story uses plain language and visual cues to show people how to stay safe and focused no matter what their schooling situation might be. Download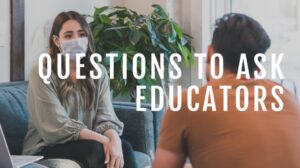 "Back to School: Questions to Ask Educators" provides a checklist of questions that parents should ask their child's teacher or school system. These questions were curated by education specialists on our Panel of Professional advisors to ensure parents are getting relevant information & support to prepare their child up for success in school year ahead. Download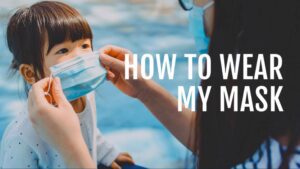 The "How To Wear My Mask" social story uses plain language and visual cues to teach individuals the importance of wearing a mask, and options to improve comfort. Download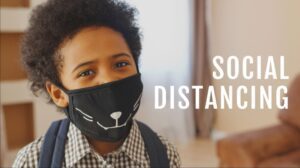 The "Social Distancing" social story uses plain language and visual cues to show people to stay six feet apart from non-family members; it addresses the feelings associated with changes to routine. Download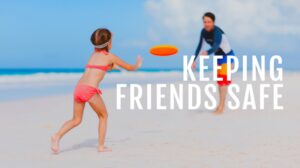 The "Keeping Friends Safe" social story uses plain language and visual cues to review the safety changes for playtime & activities. It reviews masks, social distancing, and safe activities. Download
Key Information and Creative Questions for Families to Consider During COVID-19 Closures, compiled by Washington's PAVE – Partnerships for Action, Voices for Empowerment. PAVE is one of Washington's Special Education – Parent Training and Information Center, funded by the Individual with Disabilities in Education Act.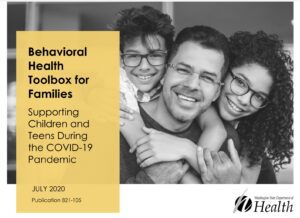 Washington state Department of Health Behavioral Health Toolbox for Families: Supporting Children and Teens During the COVID-19 Pandemic. This toolbox provides tips on how to navigate some of the emotional responses that families may experience during the COVID-19 pandemic. The purpose of this toolbox is to provide general information about common emotional responses of children, teens, and families during disasters. Families, parents, caregivers, and educators can use this information to help children, teens, and families recover from disasters and grow stronger.
This toolbox opens with an overview of the common emotional impacts of COVID-19 and provides information on these age groups:
1) Toddlers and preschool children
2) School-age children
3) Teens
Free Wi-Fi hotspots – From the Washington State Department of Commerce
Resources for Educators to Support Student Learning
TIES Center:  Distance learning engagement
"EVERY student, including students with significant cognitive disabilities, has the same inclusive environment right now. It is called home."
The TIES Center is a national technical assistance center on inclusive practices and policies. It supports states, districts, and schools to move students from less inclusive to more inclusive environments. TIES stands for Increasing
Time,
Instructional Effectiveness,
Engagement, and State
Support for Inclusive Practices.
This framework looks at the potential for distance learning in three areas:
Participating in routines and transitions
Engaging in grade-level academics and other essential skills
Interacting with others
Guidance is broken out with different sections for families, teachers, and administrators. The resource gives an overview, then offers sections on:
Morning meetings
Collaborative start to behavior supports
Effective specially designed instruction within the distance environment
Dealing with uncertainty
Reflections on individualizing supports
Getting "unstuck"
Self-determined schedule making
Time management during distance learning
The TIES Center is also an excellent resource for inclusive support, centered on students with the most significant cognitive disabilities.  Two that families might find helpful:
Educator Resources for Access and Distance Education
From the National Center on Accessible Educational Materials (AEM), these resources were created with the educator in mind but will give families information about what is available. Also includes guidance documents from the U.S. Department of Education.
SWIFT COVID-19 Resources (support during social isolation)
The SWIFT Education Center is a national leader in equity-based multi-tiered system of support (MTSS) and inclusive education research and services.
SWIFT selected resources they thought were particularly relevant during a time of social isolation. They are designed with educators in mind, but families and advocates interested in inclusive practices for distance learning might want to review them. They are centered on equity and could be particularly helpful if you are collaborating with your school district on its distance learning or re-opening plans.
Show and Tell: Educators Share Distance Learning Strategies for Students with Significant Support Needs

This webinar from TASH showcases tools and techniques to continue the education of students with the most significant support needs despite the limitations imposed by the COVID-19 crisis. Resources called out in the webinar can be accessed here.
TASH advocates internationally for inclusion of people with significant disabilities and support needs.
Resources to Support Student Rights
Tip sheets for holding and participating in meaningful virtual IEP meetings (several materials also posted in Spanish)
Social Supports & Social And Emotional Learning
The Power of Mindfulness: Practical Tips to Help Children Feel Safe and Secure, written for early learning educators, these tips will also support parents during distance learning.
Resources from the Office of the Superintendent of Public Instruction (OSPI)
Content experts from Washington's Office of the Superintendent of Public Instruction curated a selection of links to external organizations providing high-quality online educational materials. If you are looking for support for a particular subject, these might be useful. They are organized by subject, then charted for grade band.
It includes resources for early learning.
Special Education Guidance for Reopening Washington Schools 2020
This is a companion resource to Reopening Washington Schools 2020 District Planning Guide. The goal is to provide guidance, best practices, resources and unique considerations for supporting students with disabilities, their families, and all educators throughout the school reopening process. Target audience: School districts and re-opening teams.
For additional technical assistance on the provision of special education services throughout the school reopening process, refer to Questions and Answers: Provision of Services to Students with Disabilities during COVID-19 in Summer and Fall 2020.
OSPI would like your feedback on the guidance document: Survey—Special Education Guidance for Reopening Washington Schools 2020.