By Alice Doyel
Guest blogger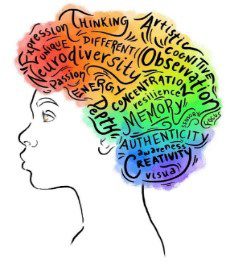 There is no way to cover this topic fully. There are different theories and information. There are many of us who know parts and pieces, often not connected to one another. For those of us in this state of knowledge, I chose the following approach:
Parts 1 and 2 Theories from two researchers/educators/practitioners, each with 30 plus years of experience in Autism. Interpretations by these researchers differ on some important aspects.
Part 3 Experiences and insights from a parent of a child with autism attending public school.
Part 4 Colleges creating opportunities for appropriate education for students with autism.
Each posting finishes with employment connections. Education is just the starting point for students experiencing autism. To live as an employed or self-employed productive adult is the necessary goal.
Parenting a Student with Autism
My wife and I adopted Emmet at age 11 months. As an infant, Emmet was not making eye contact the way babies usually do. When we would bring up concerns or observations to Emmet's pediatrician, he dismissed them. We were not able to get support for what we saw were differences.
On the positive side, we noticed that Emmet was very bright in many ways. As a toddler, he enjoyed seeing how things worked around our home. When we visited people who were remodeling, he would go to the open sockets or pick up a screwdriver to do "work."
Emmet was social in many ways. He liked being around people. However, he did not seem to understand how his actions affected the people with whom he socialized.
At age 4-1/2, we were able to get pediatric physical and occupational therapy services. The therapist observed that Emmet had some mobility issues. His muscular challenges were similar to those seen in people with autism. However, we did not get an autism diagnosis.
When Emmet first entered kindergarten, the teacher thought of him as a "problem." We had to create a narrative that told Emmet's story from our perspective. We used feedback from the pediatric physical and occupational therapist. Our therapist gave us some verbiage to use, which really helped us tell Emmet's story and why he needed supports.
Our narrative explained Emmet's situation. It did not just address his disabilities, but also his background as an adoptee. When we told Emmet's narrative, it was not just to his kindergarten teacher. We included the building staff. Then they all saw Emmet as somebody who needed positive supports. Shifting the narrative in this manner made all the difference. My wife and I also volunteered at school as often as we could, so we could spend time in Emmet's classroom. We could give Emmet our support while being in his classroom.
Emmet's had executive function challenges and sensory issues affecting him at home and at school. For example, if something interested him, Emmet was laser-focused and would not stop the activity. At other times it was hard to get his attention, and then to keep it. Emmet had problems with comprehending auditory input. To overcome this obstacle at home, we would say, "I need to give you some information. Are you ready to hear it?" We made sure we had his direct attention before telling him something.
At age 8-1/2 Emmet began seeing a mental health counselor who recommended we get a professional evaluation. We finally got the "official" autism diagnosis. In third grade, the IEP was developed, with a diagnosis of autism, ADHD, and anxiety. Emmet gained access to the school resource room. He received additional supports, including for his ongoing challenge of emotional regulation. Emmet remained in the general education classroom because he had an instructional assistant supporting him. He had 30 minutes a day in the resource room for extra support.
As Emmet got bigger and stronger, we were afraid that students might get hurt if he lost control due to his emotional regulation challenges. We came up with a behavioral intervention plan if that were to happen. We went out of our way to create solutions before there were problems. Fortunately, we have not (yet) needed to use this plan!
Although Emmet had supports, he really was not prepared for middle school. We would bring up concerns. Emmet's reading level was considerably below his peers. His writing was more like first or second grade quality work. He did not know how to begin tackling math story problems. Our concerns were brushed off by teachers. Basically, Emmet got passed, but he was not prepared for middle school. It is an ongoing struggle trying to assess exactly how capable Emmet is in relation to his peers, what the expectations are at school, and how we can meet those expectations with supports.
Emmet needs an instructional assistant to basically translate the assignments. He needs help translating a math story problem, or writing a paragraph, or capturing notes from a history assignment. Once he gets the assignment explained in a way that he can grasp, then he usually can do the work. Emmet is exceptionally good at certain things like doing PowerPoint presentations that involve grabbing things off of the internet and putting videos, photos, and music together.
Emmet's Future!
We hope Emmet will feel that school is a safe place where he feels supported, can access the curriculum, and does not get overwhelmed. We hope he can lean into his strengths – his wonderful skills using technology. Once he continues to develop his already great engineering skills, he can build just about anything. These are Emmet's Superpowers!
My ultimate hope is that Emmet can see himself as a very capable person. Someone who could come up with a solution to climate change or build a machine that can harvest energy from the sun in an efficient way so that it powers entire cities. These are Emmet's Dreams!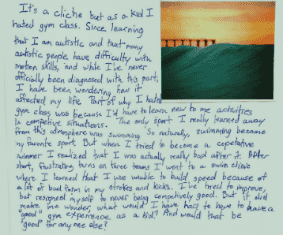 Adult woman with autism describes her experiences with sports as a teenager, both her perceptions and reality, in Felicity House Zine on page 6.
Click for an enlarged version.
Sofia began drawing at age 3.  After watching a YouTube drawing tutorial, she became obsessed with drawing. By age 8, Sofia drew about 8 hours per day. See Sofia's artwork: Middle-school girl with autism creates amazing art!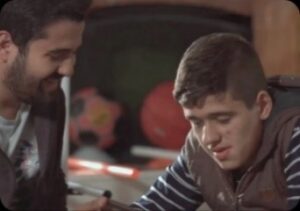 For Fun and Education: OTSIMO -Games for Learning
Zafer Elcik, Co-Founder of Otsimo: My brother needed fun ways to learn. My friend and I developed more than 50 games with educators and families, creating a free open-source communication tool for nonverbal children in different languages. Our story helped my brother and many other children.
Next Blog Post: The Mind Diversity of Autism, Part 4 – Colleges creating opportunities for appropriate education for students with autism.
Employment Links: Job Accommodation Network (JAN)

JAN provides free consulting services, regardless of medical condition. Services include one-on-one consultation regarding all of the aspects of job accommodations, including the accommodation process and ideas, product vendors, resource referral, and ADA compliance assistance.
Select By Disability for Autism or Any Other Disability
Contact: Telephone, E-Mail, JAN on Demand, Live Chat (red button on the right) once you "click"