By Alice Doyel
Guest blogger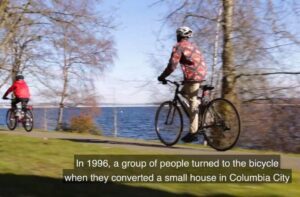 "I am passionate about social justice for our communities, youth empowerment, leadership development, civic engagement, our environment, and social innovation. I feel like Bike Works programs and staff embodies the very best of all these things in one wonderful organization that is positively impacting our community every day. I am excited to be part of this work."
Bike Works is multifaceted, having evolved over the past 25 years. Its original small remodeled house is now a retail store for bike parts, a service store for repairing bikes, as well as a drop-off point for donated bikes and a place kids can buy a reconditioned bike.
Bike Works has a larger location a block away. The organization's offices are housed upstairs, while downstairs is the main activity center. Here Bike Works has a "warehouse" where they prepare bikes for the bike shop and for bike giveaway for low-income youth and adults. There is a large area with classrooms for bike repair Earn-a-Bike programming, starting with nine-year-olds, going through teens, and also for adults. There are bikes stored for bike riding classes and groups. There are day ride camps for a variety of ages, including city rides and mountain biking rides. There are overnight biking camps to places like Bainbridge and Orcas Islands. There is a teen council that works on aspects of development for themselves, for Bike Works, and for the Southeast Seattle Community. There are vans that can transport kids to riding destinations and special activities like swimming-pizza-movies, deliver bikes to families in the community, and a BikeMobile that serves as a mobile bike repair unit.
This short video shows all the aspects of Bike Works activities and training for children, youth, and adults, and services for the Southeast Seattle community.
Bike Works has been able to continue operations through COVID-19 because bike repair is named an essential service.
Bike Works shut down in March, a little earlier than we had to, Deb explains. But by the end of March, we were back up and running with appointment-only repairs at the repair shop, which we are still doing. We take the BikeMobile to do repairs out in the community for free. We also do bike giveaways in this manner. We started an Online Store for rebuilt bikes, bike parts, and accessories.  We have been able to keep providing value to the community in one way or another.
That has been our model during this time. How can we pivot? How can we innovate? We can do all of this because of the grace of the governor saying that bike repair is essential. We are at a different position than some nonprofits. We feel lucky about that.
We cannot do anything in person. That eliminates all classes for youth and adults, and volunteer repair parties that happened twice a week. Anything like that is suspended for now.
We are creating online education curriculum that families can use at home as part of their students' schooling. Some of it is STEM-related, including lessons on levers and gears that involve science and engineering types of curriculum. Other skills include a demonstration on how to fix a flat bike tire, demonstrations on how to do different things on your bike, quizzes on bike parts, and other related topics. It is providing some resources to parents and youth to use for their homeschooling.
We cannot currently do the "drop-in times" at our Bike Works location, which were after school one day a week and then on Saturdays. These drop-ins were for working on bike repair skills and chatting. Ricky Rodriguez, Senior Program Director, or one of the other staff, now have Zoom drop-ins where they can chat about different things.
The Youth Advisory Committee was meeting by Zoom until school let out. They generally take the summers off. Currently, we are doing occasional Zoom meetups with youth that served on our Advisory Committee, or alumni that were off at college, to check in on how people were doing and help them keep in touch with one another.
For Fall we are thinking about different ways we can offer classes. Perhaps we could provide a whole toolbox of parts, tools, and a bike delivered to someone's door and let them fix the bike at their house via Zoom classes. We could then retrieve the box of tools at the end to pass on to the next class. If somebody didn't have enough space in their house, if they didn't have a garage or porch or other work area, we could possibly have two or three kids with six-foot spacing at Bike Works.
Alternatively, we might have very small classes for job skills, training, and repair work. Perhaps have three students in one room and three students in another room with different instructors. We could serve six or eight kids by really spreading people out.
We are hoping to have some R.I.D.E. clubs that are half days in Fall. We would limit the number of kids in the cohort. We need to know what phase we get to in Fall. We hope that we will get to Phase 3 or 4. Then we could have six to eight youths in the classes.
However, I am not sure that will happen. Washington State has talked about going back to Phase 1.5. If we are not in Phase 3, only five people from outside of your family are allowed. Then a camp would have to be only three youths and two adults.
Families have a range of feelings regarding participation in the Fall. We contacted all the parents that signed up for our summer camps to inquire.  Some of the parents are saying these youth really need something to do. We really need to get our kids out there. Others are feeling more conservative about it, saying they will skip it for this year.
The kids who participate at Bike Works are also at different places right now. Some youth found school online very challenging. They found it very challenging to organize what they were doing, and how to keep track of it all. Middle school and high school kids mostly have lessons that they do on their own. It can be hard to stay motivated and keep up with everything. The teachers we talked to were really trying to connect with all of their students, the same way that Bike Works are trying to connect with them better.