By Alice Doyel
Guest blogger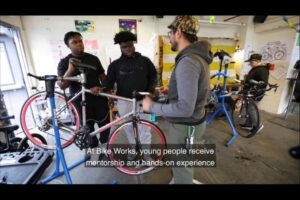 "I am passionate about social justice for our communities, youth empowerment, leadership development, civic engagement, our environment, and social innovation. I feel like Bike Works programs and staff embodies the very best of all these things in one wonderful organization that is positively impacting our community every day. I am excited to be part of this work."
Watch this short video to see all the aspects of Bike Works activities and training for children, youth, and adults, and services for the Southeast Seattle community.
This is the second post of a two-part interview. See the first post to see the many facets of Bike Works programs for kids, youths, and adults in Southeast Seattle.
Deb Salls describes how Bike Works contributes as a Columbia City community organization and small business during the COVID-19 Pandemic, beyond their regular programs for children, youths, and adults.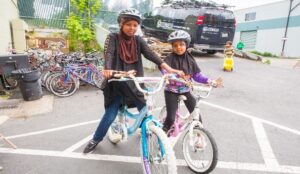 The way we have been involved with a lot of youth is by delivering bikes at our bike giveaways. They used to come to Bike Works to pick up their giveaway bikes. Now we are bringing the bikes to people's homes, often bikes for the whole family.
For example, a family signs up for five bikes. A youth receives one of the bikes. Mom and dad, another kid, and an uncle also get bikes. We fix up all the bikes for the family group and then deliver them all at once. We see people being really excited about receiving the bikes! Bikes have become really popular during this time.
Some family members need bikes for transportation during the pandemic. Even before the pandemic, it was hard for some people to take public transportation to work because they worked nighttime hours. Now there is less public transit available. Plus, people are nervous about public transportation and being exposed to COVID-19.
More people have time to bike now if they are not working or if they work from home. It feels healthier to be out in the fresh air versus cooped up on a bus. People find bikes a means for getting out with their children, giving their children exercise, and a chance to move around their neighborhoods and beyond.
We now use our Bike Mobiles to get out in the Southeast Seattle communities on a scheduled basis for repairing bikes. People can readily keep their bikes working well or update them using this mobile service.
Question: What feedback have you heard from other community organizations?
I think that all community organizations ask the same question: "What do we do if we cannot get back together in person?"
There are lots of organizations that depend on personal contact, for example, groups that do writing or music with youth. Many are making contact online. It seems to be working, but it is not quite the same.
Some organizations are really hurting. Many performing arts organizations that are audience-based, like theater, musical, and dance groups, need an audience to sell the tickets to keep their programs going. Those groups are struggling financially. You cannot get a whole orchestra together to play. You cannot even do that on Zoom.
Hopefully, funders and donors understand we are doing the best we can do. It is not any organization's fault that they cannot deliver programs in the same way.
Question: Bike Works Shop is a retail and service business in Columbia City. How has COVID-19 affected the interactions of the community?
The business association is active, trying to keep the public aware of what businesses are open and in what manner, like delivery only or, like us, appointment-only repair shop and retail online. They started a campaign called Columbia City Safe around safe practices if you are reopening.  I see this kind of coming together in a lot of different ways by business owners.
I think the same is true for neighborhood groups. We had a podcast presentation that was called Gearing Up for Community Resilience in the early days of COVID-19. There were breakout rooms where folks could discuss how they were feeling and what solutions they saw happening in their neighborhoods. It addressed living hyperlocal, like taking all the little walkways some neighbors probably had not as yet discovered. Until now, many had not spent so much time just in their neighborhood. Groups got telephone numbers of all their neighbors and started phone trees with family members and pet information in case of emergencies. People talked about different things that they had done or reached out to old friends across the country. Since COVID-19, George Floyd's murder, and the ensuing protests, I think that people care about each other a lot more.
There are some silver linings coming out of COVID-19. People are biking more, getting out more, connecting with their neighbors more. Hopefully, from all this, neighborhoods can be stronger. Everything is slowing down. People aren't running around cross town in cars. The institutional racism that's been going on for hundreds of years is coming to the forefront for everyone to examine.
It is exciting to those of us at Bike Works that biking has become increasingly popular. People want bikes that are very affordable. We deliver something that people are excited to own, sending us photos about joyous rides.