By Alice Doyel
Guest blogger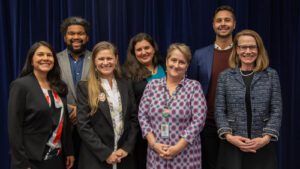 This is the first of a two-part interview with Brandon Hersey. This one focuses on communication between schools and families. This second will focus on striving for racial equity and justice in our schools.
Read Brandon's personal statement about his history and the changes he is working on to create true racial equity in Seattle Public Schools.
***
Southeast Seattle Education Coalition (SESEC) conducted a community survey centering on Southeast Seattle.
This survey focuses on many means of communication between schools and families, and how these communications are perceived. Communication can be how a parent/guardian is greeted when entering a school to how the school reaches out or responds on important topics in the students' lives.
The 1,114 respondents were diverse, speaking 35 different languages. The children attended elementary, middle schools, and high schools.
Analysis was conducted by viewing two contrasting groups:
Dominant (White | Full-price Lunch | Non-Immigrant | Primary English Speaker): Being in a position of systemic power and privilege. More specifically, exerting control over educational practices, policies, and research to reinforce hierarchies between social groups.
Majority (Person of Color | Free or Reduced Lunch | Immigrant | Primary Non-English Speaker): Being in a position of democratic potential and possibility. More specifically, transforming educational practices, policies, and research to support historically oppressed and overlooked social groups.
Watch the webinar: https://www.facebook.com/sesecwa/videos/226712871863899
View the webinar slides: http://www.sesecwa.org/wp-content/uploads/2020/03/SESEC-data-slides.pdf
There are factors preferred by the Dominant groups, while others are preferred by the Majority. Sometimes everyone agrees, whether happy or displeased. Please view the slides with the perspective of your own school or school district.
One important issue was that most immigrants preferred spoken communication, whether in-person or by phone or even through their children. This is an important challenge while school buildings are closed.
This survey was conducted and analyzed before school closures due to COVID-19. Since we cannot meet in person, SESEC recommends:
Connecting people with supporting community, support organizations, and networks.
From Seattle Public Schools: Linguistica service for interpreted phone calls and School Messenger for translated emails.
From CISC (Chinese Information and Service Center): Utilizing multilingual folks to help bridge the gap; double-checking auto-translations.
***
Brandon Hersey addresses communication
One of the biggest things that I have advocated for from the district is to make sure that we are translating all of our communications into our top five and bottom five languages. That way we are thinking about the most marginalized communities who speak rarer languages.
We also need to find ways to use more phone calls that are translated. The way to do this is by utilizing our instructional assistants in our buildings. Many Southeast Seattle schools have instructional assistants that are bilingual, and some tri- or quad-lingual. They do a lot of great work around translating the school communications to our families.
Our big gap is the district putting out communication, and then individual schools have to translate that communication. It compares to this talk that we're having around transit, about focusing on that last mile. Getting where we need to go like on I-5, public transit is great. But when we start getting to that last mile between where the stop is, and where your home is, that's what becomes more complicated. And the same is true for our communication. If we utilize our instructional assistants to help us get the translation done, we'll get to a place where we can communicate better.
I want everyone to know that we hear their feedback. We have done a poor job getting information out in languages and means and methods that folks are comfortable with and can understand.
That is a top priority, not only from the district levels. My personal hope is for OSPI (Office of Superintendent of Public Instruction) to establish a central translation service where districts could submit materials or go directly to OSPI to help facilitate translation on calls and things of that nature. Those efforts are incredibly expensive. That doesn't mean that we don't need to do them. It would be great to have support from the state in that way, perhaps 80-90% accomplished from one place. Have the translation work come from the state rather than everybody doing it piecemeal.
We have a huge budget, but most of our funding goes to school staff and teachers. When we get into these positions where we're trying to get out communication, especially as things are moving quickly, and people aren't in their offices, those interpersonal workflows are interrupted.
That is no excuse. And we need to do a better job as a system of making sure that we are getting our information out in a timely fashion, especially if we're telling folks that they can expect to receive something on a specific date. If we're expecting families to be responsive, then we've got to do our part.
We are working on that as we speak. We need to make sure that people fully understand what is happening, especially with their children's education. If we're asking somebody to take the time to read a communication, we need to make sure that the communication is worth their time to begin with.
I think what we need to focus as a district on looking at our language and asking ourselves:
Does this really communicate what we're trying to do?
Is this written in a way that the normal parent could pick it up and understand?
Is there jargon or acronyms and academic language that doesn't effectively communicate?
We have known for a long time that email is not the best way to communicate with families of color. In-person communication might be difficult now, but phone calls are not. We need to go the extra mile to make sure that we are supporting our families who need the most support in the ways that feel comfortable for them. We cannot add additional layers of headache and stress. I can imagine a family who has three kids, two or three jobs, doing their best to make ends meet. If you're coming home after a long day, and then you get this communication and it doesn't even make sense, nobody's going to take it seriously.