By Alice Doyel
Guest blogger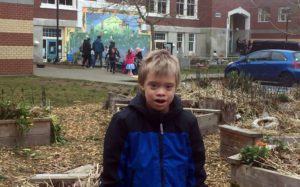 To quickly review, Sebastian had an unusual early childhood. Sebastian was born in Seattle. Chelle, his mother, was a Seattleite. His father came to the US from Germany. Since Sebastian has Down Syndrome, at age one Sebastian and his family moved to Germany, which has good early childhood intervention programs. Sebastian acquired receptive language: German at school, some English at home, plus American Sign Language. His expressive verbal language was limited.
When looking into elementary school programs, Sebastian's parents determined that German schools were not as inclusive as they desired. Feeling US schools would be better in this area, the family returned to Seattle the summer before kindergarten.
Sebastian's parents did all they could to keep Sebastian in their neighborhood school. They studied national and state laws and regulations. However, to achieve the best outcome for Sebastian they needed legal counsel.
Lara Hruska and Shannon McMinimee of Cedar Law PLLC* took several steps to strengthen Sebastian's inclusive education. Lara explains that these are measures many families can use when dealing with special education issues.
The lawyers' advice to Chelle was important in many aspects of her communication with the school district. Chelle was gaslighted by the district because she expected both sides to follow the regulations. Chelle found out this was not always the case when dealing with the district.
She found that the district used a tactic of designating some activities "special education" like toileting in the school bathrooms and walking the school stairs. However, all students use the bathrooms and the stairs, so this can take place in the general education setting and should not have been used to make Sebastian's program more restrictive on paper.
The most critical example of deception occurred when Chelle was sent the draft IEP paperwork the Friday before the Tuesday IEP meeting. Chelle had the weekend to review it if she had questions or wanted to change anything. There was no page regarding Sebastian's location in that draft. So Chelle thought it was a done deal that Sebastian would stay at his neighborhood school – that there would be no change of placement.
Chelle thought the IEP meeting would discuss Sebastian's goals and related issues. She assumed that was the reason Gordon, from the district special education department, was attending the meeting. However, Chelle still felt Gordon's presence at the meeting was strange.
Since this was Chelle's first IEP, she did not know that the page regarding actual minutes of service delivery was missing. She did not even know that there should be a placement page. She definitely did not know that somebody had already decided on the placement to be at another school location rather than the one in her neighborhood.
Lara explains that sometimes the district leaves the placement page blank, to show they are not pre-determining placement. Then placement is decided at the meeting in conjunction with the parents/guardians.
Even more incredulous was that the school administration, teachers, and Sebastian's paraeducator had indicated to Chelle that Sebastian was doing well at the neighborhood school. At the meeting, none of the school personnel who knew Sebastian well by this time spoke against him staying at the neighborhood school.
Lara advised Sebastian's family to request a Due Process Hearing, contesting the district unnecessarily removing Sebastian from his neighborhood school. If the school staff did not support Sebastian staying at their school, it may be wise to consider a change of location. However, everything here indicated that Sebastian was welcome, supported, and – most importantly for the legal analysis – successful.
Lara commenced to write the request for the Due Process Hearing and later she and Shannon set up six depositions. This all takes time. Lara wanted Sebastian to be in the best situation immediately.
So she got Sebastian 'part-time placement' at his neighborhood school.
Part-time placement allows Sebastian to access 78% of his time at school, with the remainder of the school day being home-schooling. The home-schooling hours were used for special education learning and supports. This maximized Sebastian's general education hours when he was in the neighborhood school. It also allowed him to access related services and academic support at school. Since this school was close to their home, Chelle could easily drive Sebastian to and from school at the appropriate times.
WAC Placement: https://apps.leg.wa.gov/WAC/default.aspx?cite=392-172A-02060
RCW Part-time Student-Defined: https://apps.leg.wa.gov/rcw/default.aspx?cite=28A.150.350
WAC Part-time Enrollment: https://app.leg.wa.gov/WAC/default.aspx?cite=392-172A-01135

Lara and Shannon proceeded with the first three depositions. There was clear evidence that Sebastian's placement at his neighborhood school was appropriate for him and did not negatively impact the school. This was exemplified in the deposition by Sebastian's paraeducator. She spoke warmly of his positive attitude at school, how much Sebastian was progressing, and how well he fit into the school community. The school as a whole provided incredible support for Sebastian.
Lara explains what is most compelling about this case is that the school could serve Sebastian if they simply had adequate resources. The district is saying, "Sorry, we silo those resources across town, and you have to go there to access them." This model keeps Sebastian from being in the most inclusive setting in his neighborhood school.
After Lara and Shannon completed three of the six dispositions, the district agreed to begin settlement negotiations. That agreement is still being finalized, but the district has agreed to keep Sebastian in his neighborhood school, accessing 100% of his education program.
* Cedar Law uses flat fee and sliding scale rates for clients with financial limitations.